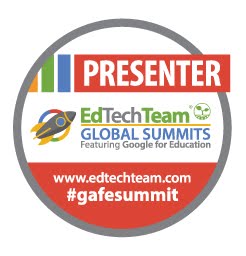 The GAFE Ontario Summit is this weekend, April 9 & 10, and it's right here in Kitchener-Waterloo. GAFE stands for Google Apps in Education, and this Ontario event is co-hosted once again by EdTechTeam Summits and the Waterloo Region District School Board.
I'm looking forward to hearing the many keynote and spotlight speakers, but most particularly to Michelle Cordy of the Thames Valley District School Board, who identifies herself as a teacher and applied researcher. Would that all teachers thought of themselves in this way! How much we could learn together.
I am very pleased to be co-presenting at the summit with Carlo Fusco, teacher-librarian at Waterloo Collegiate Institute. Our topic is flipped learning – in the school library and in the classroom. We'd be very pleased to see you there!
GAFE Ontario Summit: Flipping Orientation: Session Description
---