The learning commons approach is a response to the growing complexity of today's technology-enabled world, and the rapid rate of change. Preparing students to be successful citizens  in this context means preparing them to be lifelong learners. Learning dispositions like problem-solving, critical thinking, transliteracy, creativity and collaboration become paramount.
The 21st Century Learner



The Learning Commons Approach



Ontario's guideline document, Together for Learning: School Libraries and the Emergence of the Learning Commons (Ontario School Library Association, 2010) describes the learning commons as a whole school approach.
A Learning Commons is a vibrant, whole-school approach, presenting exciting opportunities for collaboration among teachers, teacher-librarians and students. With a Learning Commons, new relationships are formed between learners, new technologies are realized and utilized, and both students and educators prepare for the future as they learn new ways to learn.
Together for Learning: Learning Commons Expectations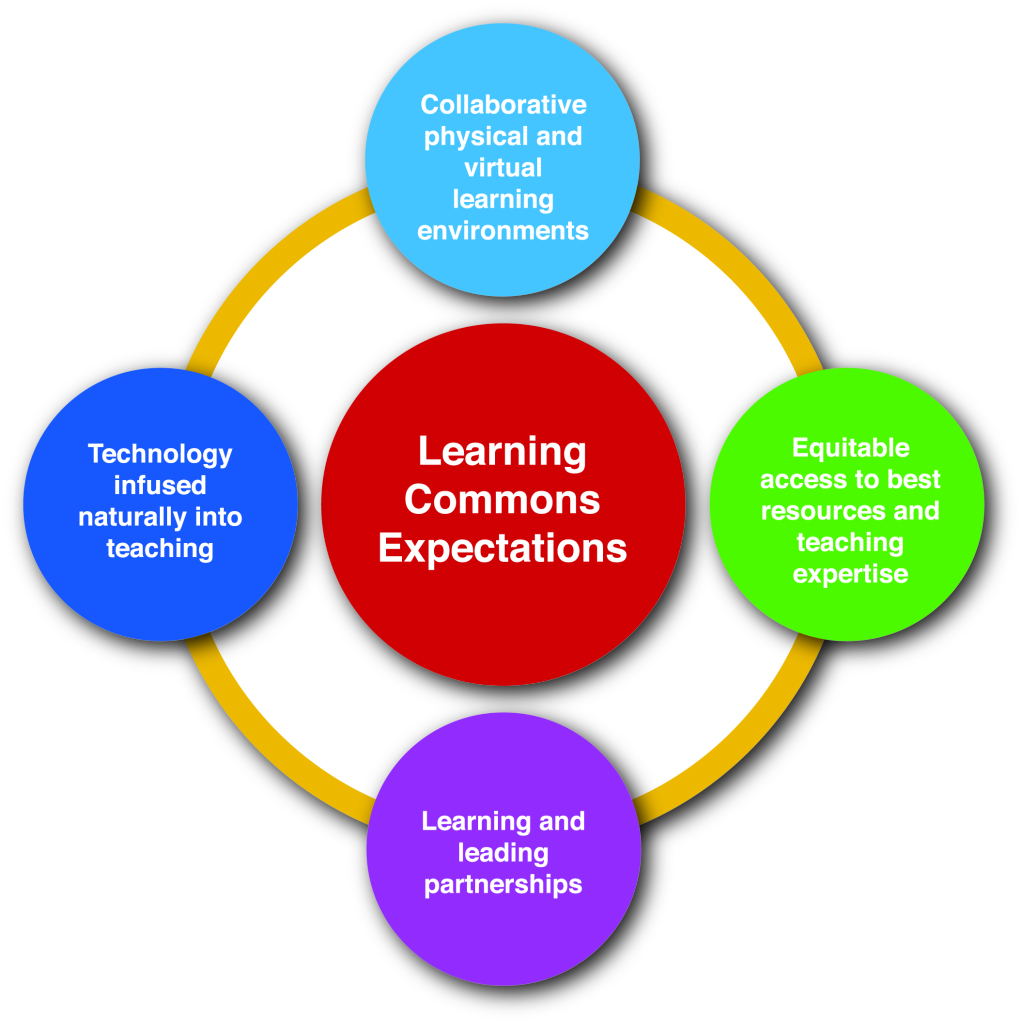 The School Library at the Hub of the Learning Commons

All libraries are built on the foundational principle of supporting learning by facilitating the free exploration of ideas. Libraries from all sectors are building on that foundation to transform understanding of the role of the library from a place to access ideas into a place to fuel knowledge-building and creativity. School libraries in particular are re-inventing themselves as collaborative learning hubs, rich in technology, and building capacity for new ways of learning and creating.
Follow British Columbia's Learning Commons Journey
Presentations
OLA Super Conference 2016: Learning Commons Lightning Round
Bring IT Together 2015: Year of the Learning Commons, with Jeanne Conte
River East Transcona School Division, Winnipeg, September 2015: Planning for Your Library Learning Commons
Winnipeg School Divisions, October 2015: Learning Commons Day
Articles
Collaborative Leadership: A Learning Commons Model, with Carol Koechlin
The Trillium (July 2014). ASCD Ontario
http://ascd.ca/ascd/on/wp-content/uploads/2011/03/Trillium-Newsletter_WEB-July-2014.pdf
District and State/Provincial VLCs, a Chapter 13 in The Virtual Learning Commons, by Loertscher, Koechlin and Rosenfeld, (LMC Source, 2012). Additional contributions to Chapter 7, Start with the Information Center.
School Library Websites: The Bricks and Mortar of the Virtual Library Space. Treasure Mountain Canada 2012.
https://sites.google.com/site/treasuremountaincanada2/brooks-kirland
The Virtual Library: Have We Put the Cart Before the Horse? School Libraries in Canada Volume 29 Issue 2 (2011)
http://clatoolbox.ca/casl/slicv29n2/292brookskirkland.html
The Virtual Library as a Learning Hub. School Libraries in Canada Volume 27 Issue 3 (2009).
http://clatoolbox.ca/casl/slicv27n3/273brookskirkland.html
The School Library Learning Commons: Are We "Virtually" There? School Libraries in Canada Volume 27 Issue 2 (2009).
http://clatoolbox.ca/casl/slicv27n2/272brookskirkland.html
Blog Posts
Discovery, Co-Teaching, and Measuring What Matters (February 11, 2016)
The Virtual Learning Commons (December 2, 2012)