I have a few presentations coming up, and would love to see you participating! As ever, my materials will be posted on this website, under Presentations – Presentations Archive.
---
A Catalyst for Igniting Change: Leading Learning: Standards of Practice for School Library Learning Commons in Canada
with Carol Koechlin
Tuesday October 20, 8:00 pm EDT
Exploring standards to transform learning in school libraries. Standards can indeed help measure practice, but Leading Learning does much more. By focusing on the needs of the learner, Leading Learning provides a framework for growth. Every school, no matter the status of its library program, can find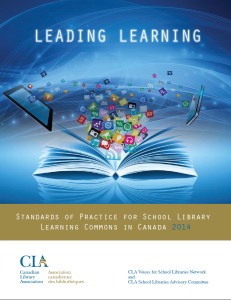 itself in this framework and decide on tangible steps for improvement. As a catalyst for igniting the design of futures oriented learning the document positions the school library learning commons as critical to innovative pedagogical approaches for the new century. Participants will explore the potential of the new Canadian standards to drive school improvement and consider approaches to apply to their own transformations.
Check out the free Teacher-Librarian Day pre-conference, Monday October 19, 4pm-9pm EDT.
---
Year of the Learning Commons
with Jeanne Conte, PDSB
Wednesday November 4, 1:00-3:50pm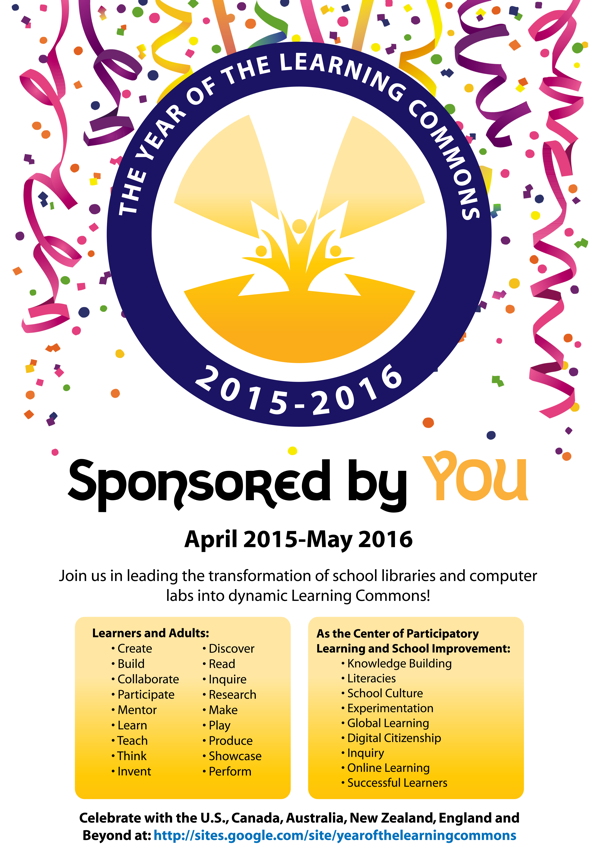 The learning commons approach has captured the imagination of educators around the world, and the Year of the Learning Commons celebrates this whole school approach to participatory learning and teaching. Your school library can be a physical and virtual hub of collaboration, technology integration, inquiry and innovation. In this working session we will explore how Leading Learning: Standards of Practice for School Library Learning Commons in Canada can inspire innovation in your school, leveraging your library as a driver of future-oriented learning. So bring your learning commons team – teacher-librarian, teachers, and principals – and learn how to build a true learning commons.
Learning Commons Lightning Round!
Featuring: Caroline Freibauer, Carlo Fusco, Kate Johnson-McGregor, Alanna King & Melanie Mulcaster
Thursday November 5, 10:00-10:50am
It's the Year of the Learning Commons, and we're celebrating the incredible innovations taking place in Ontario schools and their library learning commons. Join us in this fast-paced session featuring 5-minute lightning talks from innovative Ontario educators about their journey to a learning commons. We'll cap the session with a Q&A to further inspire the learning commons journey at your school. In this case, we hope that lightning really does strike twice!
Innovation Station: Music in a Lifetime
Thursday November 5, 5:00-6:00pm
The evidence is in: being involved in music makes you smarter and happier. Members of one of Canada's finest wind ensembles, the Wellington Wind Symphony, invite educators to use our Music in a Lifetime website to connect their students to the world of possibilities that music opens up in their lives. The resource provides a framework to foster independent exploration and lesson ideas for a guided inquiry instructional approach. We use embedded videos of our performances, feature interviews, and curated links to the best resources on web to enrich this real-life platform for exploration and learning. Visit the website at: www.musicinalifetime.ca/
---
eLearning in Libraries Symposium
iSchool, University of Toronto
Friday November 13, 2015
Designing for Learning
Instructional design models focus on the creation of effective learning objects for communicating meaning. Designing for learning focuses on outcomes and impact: how effectively students synthesize the information and are able to transfer it to new situations. In this session we will explore instructional design models in this broader context of student learning.
Just Say No to Powerpoint Poisoning!
with Jennifer Thiessen, Brock University Library
We've all experienced it. Text-intense PowerPoint slides replete with bulleted lists providing a handy script for the presenter. PowerPoint has taken an unfair rap for the poor skills of some of its users. In this session we'll share strategies for creating polished PowerPoint presentations that exploit its capacity as a visual communication tool. We'll also explore Mix, an exciting new add-on (Windows only) that lets you incorporate audio, video recording and screen captures, write or draw on your slides, and create quizzes. You can also publish the presentation to the cloud as a shareable video file.
---
On the Horizon: Presentations and events in the new year.

OLA Super Conference 2016
Flip Your Library Orientation
with Carlo Fusco
Learning Commons Lightning Round
---
TMC 2016 is being held in partnership with Super Conference this year!
Download the TMC / Super Conference flyer
---
Please explore resources from my September 2015 Library Learning Commons workshops for the River East Transcona School Division, Manitoba.