Action Advocacy for the School Library Learning Commons
La promotion d'action de la bibliothèque scolaire Journées des formations de l'APSDS, December 2018
OLA Super Conference 2018
Poster Session: Boldly Moving Forward with Canadian School Libraries
Imagine Your Library: OASC Library Conference, October 2017
Action is Eloquence: Leadership from the School Library Learning Commons: Dufferin-Peel Catholic District School Board, September 2017
Action is Eloquence: Leadership from the School Library Learning Commons: York Region District School Board May 2017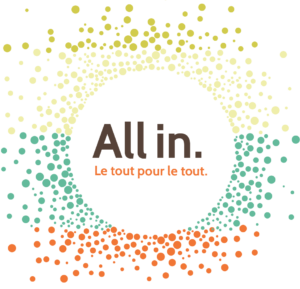 OLA Super Conference 2017
Soapbox 3.0: Action Advocacy for School Libraries
It's New! Canadian School Libraries
with Carol Koechlin and Jo-Anne Gibson
Leading Learning from the Library Learning Commons: Edifide, 2016
The Virtual Library Learning Commons: York Catholic District School Board, May 2016
Leading Learning from the Library Learning Commons: Halifax Regional School Board, May 2016
Designing for Learning: Moving from Covering Information to Uncovering Deeper Understanding: University of Toronto Libraries, March 2016
Flipped Orientation: GAFE Ontario Summit, April 2016, with Carlo Fusco
OLA Super Conference, January 2016



Flip Your Library Orientation
with Carlo Fusco
Learning Commons Lightning Round
Featuring teacher-librarians Caroline Freibauer, Carlo Fusco, Alanna King, Kate Johnson-McGregor and Melanie Mulcaster

eLearning in Libraries Symposium
iSchool, University of Toronto, November 13, 2015
Just Say No to PowerPoint Poisoning!, with Jennifer Thiessen
Designing for Learning
Algonquin Lakeside Catholic DSB TechFest
November 14, 2015
Your Library Learning Commons, with Peggy Lunn
Finding Images You Can Use

Bring IT Together 2015
November 4 – 6, 2015
Year of the Learning Commons, with Jeanne Conte
Learning Commons Lightning Round
Innovation Station: Music in a Lifetime

International Association of School Librarianship 2015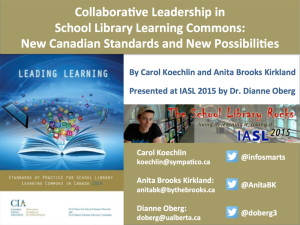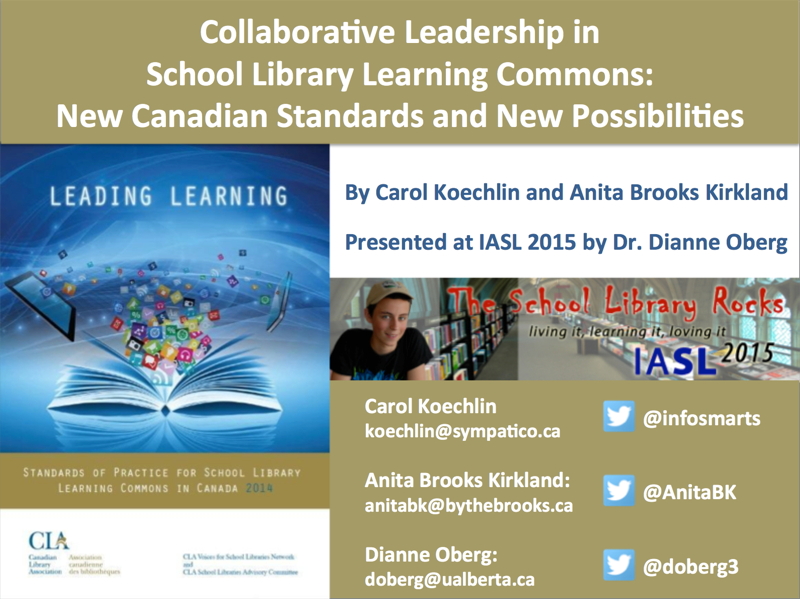 Collaborative Leadership in School Library Learning Commons: New Canadian Standards and New Possibilities
A paper by Carol Koechlin and Anita Brooks Kirkland
Dr. Diane Oberg presented this paper on our behalf at the IASL Annual Conference 2015 in Maastricht, The Netherlands.
Ontario Library Association Super Conference 2015

Leading Learning to Transform School Libraries
A Taste of Treasure Mountain
Library Programming for Children: Using iPads Toronto Public Library, December 2 & 3, 2014
eLearning in Libraries Symposium: Instructional Design for eLearning Ryerson University, November 14, 2014
Advocacy for School Libraries with Wendy Newman. Course Guest, iSchool, University of Toronto, November 11-17, 2014.
Collaborative Leadership in the Library Learning Commons Interdivisional Learning Commons Day for Teacher-Librarians, Winnipeg, Manitoba, October 16, 2014
Leading Learning in the School Library Learning Commons: System and School Planning in the GECDSB, and Flip Your Library Orientation Greater Essex County District School Board, October 9, 2014
TMC 2014: A National Symposium – Leading Libraries for the Future
Myths, Realities and Opportunities: What the Research Says about Digital Literacy
Defining New Metrics for Library Success: School Library Panel
University of Toronto iSchool Symposium, April 22, 2014
With Jeanne Conte
Ontario Library Association Super Conference 2014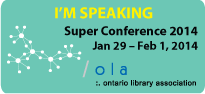 Designed for Thinkers: A Critical Thinking Approach to Digital Citizenship
With Ruth Hall, members of TALCO & student guests
Annual Institute of the Library as Place, July 2013
Teen Territories: Creating Their Special Places in Libraries
With Carol Koechlin and Sofia di Sabatino
York Catholic DSB Teacher-Librarians' PD, February 2013
The Connected Teacher-Librarian
Kicking It Up A Notch With T4L
Ontario Library Association Super Conference 2013
Together for Learning Showcase
With Elizabeth Gordon, Isabelle Hobbs, Carol Koechlin

Research Matters!
Part 1: Librarians' Perspectives on Research
Part 2: Getting Started and Going Deeper
With Joanna Aegard, Kristin Hoffman, Shauna-Lee Konrad, and Kevin Manuel.
Treasure Mountain Canada 2012
School Library Websites: The Bricks and Mortar of the Virtual Library Space
Waterloo Goes Wireless, April 2012
Inquiry Untethered
Ontario Library Association Super Conference 2012

Construction Zones for Learning
Virtual Knowledge Building
The Partnership's Education Institute, November 2011
The Great Web 2.0 Face-Off Post-Game Show (Webinar)
Durham District School Board, November 2011
Together for Learning Progress Report
Internet Librarian 2011
The Great Web Tools Face-Off!
Educational Computing Organization of Ontario (ECOO) 2011
Imagine Your Library
The Great Web 2.0 Face-Off Re-Match!
Virtual Knowledge Building
Simcoe County District School Board, April 2011
Together for Learning First Year Progress Report
Online Knowledge Building Centres Using Google Sites
Hamilton-Wentworth Catholic District School Board, April 2011
Virtual Learning Commons: Building New Literacies
Why librarians should be in charge of educational technology
Upper Grand District School Board, April 2011
Teach Wikipedia? First Let's Learn Wikipedia
Ontario Library Association Super Conference 2011
The Great Web 2.0 Face-Off! OSLA Spotlight Session
From Vision to Action: Building an Online Library Learning Commons
Treasure Mountain Canada 2010
Teacher-Librarians and the New Learning Divide
Educational Computing Organization of Ontario (ECOO) 2010
Building an Online Library Learning Commons
Ontario Library Association Super Conference 2009
The Social Web Goes To School: Enabling 21st Century Learning
Top Tech Trends – K-12 Education & The New School Library
Success Through Synergy: Developing a Framework for Student Success
Ontario Library Association Super Conference 2008
Teaching Wikipedia
Wiki With Us (Pre-Conference Workshop)
Wiki Models for Student Research