More and more, educators are concerned about teaching citizenship in a digital world. The Association of Library Consultants and Coordinators of Ontario (TALCO) recently released an excellent resource for teachers to use as they help their students develop as responsible citizens as they extend their learning into online environments.
TALCO Digital Citizenship Resource

"The TALCO Digital Citizenship Project seeks to empower teachers and students to build this digital citizenship capacity through a critical thinking and inquiry approach to learning. It also serves as a curated entry point into the best supporting resources available on the web. The project helps teachers realize the support of the school library program and a Learning Commons approach in making strong connections between learning, citizenship, and our digital world."  http://www.talcoontario.ca/digital-citizenship/
The release of this resource coincides with the release of OSAPAC's digital citizenship project. The OSAPAC resource provides a rich idea bank for classroom tasks that promote digital citizenship within the context of the Ontario curriculum. TALCO's approach is grounded in the Learning Commons approach of Together for Learning, and is built on the foundational values of librarianship.
"Libraries are built on foundational ethics of providing equity of access to information and resources, promoting intellectual freedom and the freedom to read, and protecting the individual privacy that protects those freedoms. School library instructional approaches – inquiry, information ethics, leveraging multiple literacies, and fostering individual and cultural growth – extend those foundational ethics into the learning context of the school." http://www.talcoontario.ca/digital-citizenship/
The two resources take different yet complementary approaches, for the benefit of all educators and students in Ontario.
TALCO's resource presents five facets of digital citizenship: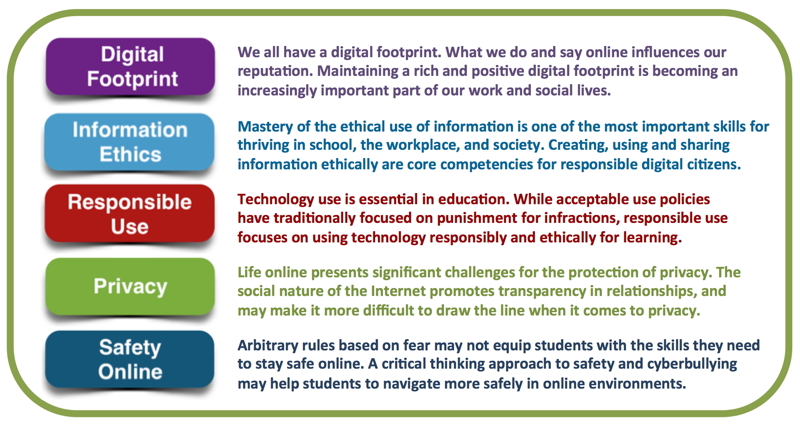 Critical questions are presented for each facet. They are:
What do we mean by digital footprint / information ethics / responsible use / privacy / safety online?
Why is it important?
What do I, as a teacher, need to know and be able to do?
How do I use an inquiry approach to help my students develop knowledge and skills?
Each section then includes:
Inquiry Activities: ideas for integrating concepts meaningfully into learning, taking an inquiry stance.
Best on the Web: Relevant resources curated by the TALCO writing team.
The resource also includes an excellent Resource Links page, complementing the more specific links presented for each facet of digital citizenship.
The TALCO project was completed with the support of a grant for subject associations from the Ontario Secondary School Teachers' Federation.